Pagi sekali Tika sampai di sekolah secara kebetulan bertemu Vina teman sekelas dan terjadilah Percakapan bahasa inggris di sekolah karena mereka menyukai bahasa inggris. Ya, suka adalah salah satu kunci untuk memudahkan menguasai kemampuan bahasa inggris. Kalau Anda ingin pintar bahasa inggris tetapi saat ini Anda takut atau bahkan membencinya itu pasti akan menghambat proses belajar Anda. Jika Anda suka maka Anda akan melakukan segala cara untuk meraihnya, usaha keras akan terasa ringan tanpa beban. Silahkan coba untuk praktek latihan conversation bahasa inggris dengan audio lesson gratis di website ini.
Contoh Percakapan Bahasa Inggris tentang Sekolah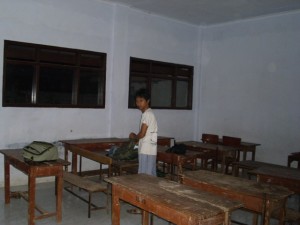 Vina : Hey, Good morning, Tika!
Tika : Hello there, Vina! Good morning.
Vina : Wow, I don't see you very often to be in school this early. What makes you come so early this morning?
Tika : That's actually fine, Vina. My house is kind of far from our school, I'm just afraid I would come late if I didn't come so early.
Vina : But, I think you never come this early before, Tika. It's just 06.00 AM now. I usually see you come to class around 06.45.
Tika : Yeah, Vina. As a matter of fact, the road where I pass by the bus I take everyday to school is now under betterment. The betterment process really disrupts the traffic condition, so I always end up trapped in traffic jam lately. Due to the traffic jam, I almost come late everyday to school. So, during the road betterment I will come to school earlier than before.
Vina : That's a smart decision, Tika. You know about our school rules, right? You will be locked outside the school gate if you come late with any reason.
Tika : Yeah, you are so right, that would be awful. So, what makes you come this early, Vina? Do you usually arrive at school this early?
Vina : Yes, Tika. I come this early to school everyday because I'm one of our school's student cooperation keeper members. I was assigned to come earlier to school everyday to prepare and get everything ready before the cooperation opens.
Tika : Wow, what a duty! By the way, do you do all the preparation things by yourself? It must be tiring.
Vina : Heehee it won't happen, Tika. The fact is I am helped by other keeper members who are assigned like I do every morning.
Tika : Heehee I thought that you have to set everything up all alone.
Vina : And… besides of my duty as a student cooperation keeper member, there are also a few things that please me to be in the school this early.
Tika : Huh? What are those?
Vina : Humm… I think the air in here is clearer if you breathe in at this early hour. And you may also find some gauze or thin mist around the school.
Tika : Yeah, you're right, Vina. I do feel the air is clearer and I think I saw that thin mist you said too.
Vina : Yeah, So, coming earlier to school isn't bad, right?
Tika : Yup, it's not that bad.
Vina : And maybe, you could do some homework you forgot to do last night by coming early to the school.
Tika : Oh, my! I remember I got homework I haven't finished. I have to finish it before the bell rings. What a great talk, Vina! I've got to go, see you later!
Vina : [laughs] See 'ya, Tika!
Glossaries (kosa kata) Percakapan Bahasa Inggris di Sekolah
Come so early: datang awal sekali
Kind of far: agak jauh
Under betterment: dalam perbaikan
Disrupt: mengganggu, mengacaukan
School's student cooperation keeper member: anggota penjaga koperasi siswa sekolah
Preparation: persiapan
Tiring: melelahkan
(to be) assigned: ditugaskan, diberikan tugas
I thought…: saya pikir, saya kira
Duty: tugas
Gauze (mist thin): kabut tipis
I've got to go: aku harus segera pergi
Percakapan bahasa inggris di sekolah antara Tika dan Vina ini membicarakan tentang ketidakbiasaan Tika yang datang terlalu pagi. Berbeda dengan hari-hari sebelumnya yang seringkali hampir telat masuk sekolah.