Suatu hari Rina dan toni secara tidak sengaja bertemu di depan rumah rina sehingga terjadi percakapan bahasa inggris 2 orang . Dua remaja ini bertetangga baik dan kebetulan keduanya juga mengikuti kursus bahasa inggris. Percakapan bahasa inggris 2 orang ini membicarakan tentang hiburan pasar malam yang berada tidak jauh dari tempat tinggal mereka. Dari percakapan 2 orang dalam bahasa inggris ini ternyata diketahui masing-masing sudah 3 tahun lebih tidak pernah ke pasar malam. Padahal sebelumnya mereka suka menikmati berbagai wahana permainan dan hiburan di pasar malam. Di akhir percakapan bahasa inggris 2 orang remaja ini berencana untuk pergi ke pasar malam dengan mengajak teman-teman mereka.
Contoh Percakapan Bahasa Inggris 2 Orang : The Funfair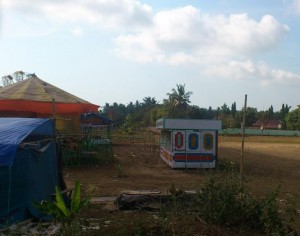 Toni : Hei Rina, do you ever go to a funfair before?
Rina : Yes, of course. I often go to a funfair since I was a little
Toni : Did you come to any funfair lately?
Rina : No, I have never gone to any funfair lately and even for the last three years.
Toni : So, your last funfair visit is three years ago?
Rina : Yup, it has been a while since my last visit to a funfair. So, what about you Toni? Do you often come to a funfair?
Toni : Hmmm actually, I don't really often go to a funfair and just like you Rina, my last visit is about three years ago. It was when I was still a junior high school student
Rina : Heehee me too.
Toni : Who did you go to the funfair with, Rina? Did you go by yourself?
Rina : Of course not. There would be no fun if I go to a place such a funfair all alone. I usually go to a funfair with my friends
Toni : Haha you're right. So, what kind of ride do you like to play at the funfair, Rina?
Rina : One of my favorite rides is the Ferris wheel. I really love when the wheel brought me so high up to the sky so I could see the crowd from above my seat and see everything from that height. When we reached up on the highest part, I and my girl friends sometimes shouted loudly. The height was terrifying but also exciting at the same time.
Toni : Hahaha you seemed to really enjoy the ride through your story
Rina : Of course, Toni. So, how about you? What is the ride you like the most?
Toni : Hmmm I think I like that Ferris wheel ride too, the game stands were also fun, but I think the best part of a funfair is the ghost house ride.
Rina : Ghost house ride? Oh no, I hate that ride. The ghosts scared me out of my wits
Toni : Hahahaha you are too exaggerating, Rina. Don't say that you didn't know that the ghosts were fake?
Rina : Hey, don't tease me like that! Of course, I knew that those ghosts were fake and most of them were just people who imitated ghosts. But, although I knew it's fake, I still couldn't stand seeing their ghost make-ups and costumes. The last time I went to the ghost house ride with my friends, I ended up crying as we got out of the ride.
Toni: Hahaha you're funny, Rina.
Rina: There is nothing funny about crying of getting scared, Toni.
Toni: Haha okay, okay. Hey, I heard that there was a merry funfair in town near our school. Let's go there this Saturday with others!
Rina : Really? I think I'm free this Saturday, Okay I'm going
Toni : Great! Okay, I'll tell others.
Glossaries (kosa kata) Percakapan Bahasa Inggris 2 Orang : The Funfair
Funfair : Pasar malam
Since I was a little : Sejak aku masih kecil (anak-anak)
(has) been a while : Sudah cukup lama
Actually : Sebenarnya, sesungguhnya
Ferris wheel : Kincir ria
Ride : Wahana permainan
Terrifying : Mengerikan
Exciting : Menyenangkan
Seemed (seem) to : Kelihatannya
Game stands : Kios permainan
Scared (me) out of (my) wits : Sangat membuatku ketakutan
Couldn't stand : Tidak tahan, tidak mampu
Exaggerating : Melebih-lebihkan
Fake : Palsu, bohong-bohongan
Jika Anda punya pengalaman yang berbeda tentang hiburan pasar malam dan pernah membicarakannya dengan teman Anda, akan lebih menarik jika Anda menuliskannya dalam bentuk percakapan bahasa inggris 2 orang.