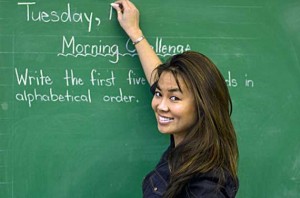 Grammar dalam bahasa inggris dapat diartikan tata bahasa atau sistem bahasa. English Grammar memiliki tingkatan yaitu basic, intermediate dan advanced. Tetapi anehnya peraturan-peraturan Grammar Advanced dengan Basic banyak yang bertentangan – itulah sebabnya dalam ebook bahasa inggris gratis saya katakan pada Anda bahwa Bahasa Inggris adalah bahasa yang seenak wudelnya. Dan untuk langkah awal belajar bahasa inggris tidak dianjurkan belajar grammar. Tetapi materi grammar tetap penting terutama dalam menghadapi berbagai ujian bahasa inggris seperti Test TOEFL atau pelajaran sekolah
Contoh pertentangan aturan grammar :
The Simple Present Tense & The Present Continuous Tense
Di sekolah, dimana yang diajarkan adalah grammar basic – The Simple Present Tense adalah tense yang digunakan untuk menyatakan fakta, atau kebiasaan sedangkan untuk menyataan kejadian yang SEDANG berlangsung kita menggunakan The Present Continuous Tense, seperti
I like English (Fakta, simple present)
I am learning English (Sedang berlangsung, present continuous)
Tetapi pada advanced grammar, kita boleh saja menggunakan The Simple Present untuk sesuatu yang sedang berlangsung secara cepat dari action ke action lain, seperti komentator sepakbola. Mereka menggunakan Simple Present walaupun saat itu sedang berlangsung. Ini hanya salah satu contoh saja
Okey kembali bahwa saya akan memberikan 30 Jurus basic grammar secara bertahap – yang harus Anda kuasai. Pelajaran Grammar ini dimulai dari NOL – tenang saja, tapi dahsyat – karena sama saja Anda mempelajari mata kuliah Structure I di perguruan tinggi jurusan Bahasa Inggris selama 1 semester
Pelajari secara disiplin, kerjakan latihannya secara tertulis dan buka Kamus Bahasa inggris untuk kata-kata yang Anda tidak ketahui. Grammar ibarat rantai, 1 saja mata rantai terputus – hancur semuanya. Itulah sebabnya 30 jurus ini harus Anda kuasai secara integrated, secara terpadu melalui kursus Bahasa Inggris online Full Conversation ini.
Berikut pembahasan materi pokok grammar bahasa inggris secara (berseri) :
16 Tenses bahasa inggris
Parts of Speech
Passive Voice
Reported Speech
Conditional Sentence
Gerund
Participle
Dan lainnya menyusul
materi belajar grammar bahasa inggris ini akan dipublikasikan secara berseri.