Expression of Apologizing adalah suatu cara menyampaikan ekspresi ungkapan permintaan maaf dalam bahasa inggris yang tentunya banyak variasi kalimatnya sesuai dengan konteks dan situasinya. Tidak harus semua variasi digunakan dan jangan terlalu fokus untuk belajar menguasai grammar bahasa inggris dalam melatih conversation sebagaimana yang telah dijelaskan di modul belajaringgris.net
(Inside the classroom)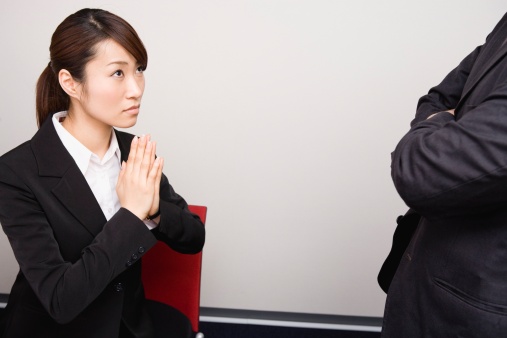 Gilang : Hey, Robi. Where is Mita?
Robi : Mita? I think she is meeting her friend at another class
Gilang : Is that her lunch box on her desk?
Robi : I think so, what's wrong with her lunch box?
Gilang : I have a good idea, let's play a prank on her!
Gisel : Guys, I'm sorry for interrupting your talk. Can I ask what time it is now? When will the break time end?
Robi : It's 1.15 PM. I think we will have another class in 30 minutes.
Gisel : Alright, thanks Robi.
Robi : No problem.
Robi : Well, what is your idea, Gilang?
Gilang : I'm going to hide her lunch box and she will really be in panic when seeing her lunch box is missing. And that is going to be so funny. So, do you come with me, Robi?
Robi : Um… I am sorry, I think I'll pass. I forget doing my math homework. I have to finish it now before math class starts.
Gilang : Oh, okay, that's too bad. I'll do it by myself then.
Robi : Well, good luck then.
Gilang : (Gilang immediately grabs Mita's lunch box and goes out of the class but suddenly he bumps into a teacher outside the class)
Mr. Ari : Pardon me, what makes you so in a rush, Gilang?
Gilang : Oh! Mr. Ari! I'm terribly sorry, Sir! I was going to give this lunch box to my friend. I'm really sorry, Sir.
Mr. Ari : That's alright, Gilang. Please be careful on your way.
Gilang : Thank you, Sir.
Mita : Gilang? What are going to do with that lunch box?
Gilang : Huh?…… Oh! Mita! I didn't notice you! (Gilang gets startled seeing Mita stand before him all of a sudden)
Mita : Yes?
Gilang : Oh… I think I'm busted. Actually, I was going to play a prank on you by hiding your lunch box. I am very sorry, Mita.
Mita : What? Oh my, I think I came in the right time.
Gilang : Please, forgive me Mita. I was only planning on playing a prank on you.
Mita : Well, Forget it. Just don't let this happen again
Gilang : Alright. Thank you, Mita!
Mita : For you information, that's not my lunch box.
Gilang : What?!
Vocabularies (kosa kata) Expression of Apologizing
Adj. = adjective / kata sifat
v. = verb/ kata kerja
n. = noun / kata benda
Play a prank on (someone) = Menjahili, mengerjai (seseorang) (v).
Lunch box = kotak makan siang (n).
Desk = meja (n)
Break time = waktu istirahat (n)
In panic = menjadi panik (adj).
Missing = menghilang, hilang (adj)
I will pass = aku tidak ikut (v)That's too bad = sayang sekali
…by myself = seorang diri (diri sendiri)
Bump into = menabrak (v).
In a rush = terburu-buru
notice = melihat, menyadari (v).
Startled = terkejut (adj)
Stand before = berdiri di depan (v)
All of a sudden = tiba-tiba
busted = ketahuan (berbuat sesuatu dsb) (adj)
Basic Sentences Expression of Apologizing
Cara umum mengucapkan permintaan maaf
– Sorry… = Maaf
– I am sorry… = Saya minta maaf, maafkan saya
– Please, I'm sorry
Supaya permintaan maaf terlihat lebih mendalam
– I am very sorry = saya sungguh/sangat minta maaf
– I am terribly sorry
– I am extremely sorry
Permintaan maaf di suatu situasi terntentu
– I am sorry for disturbing (Maafkan saya karena menganggu)
– I am sorry for interrupting (Maafkan saya karena menyelak)
– Pardon me for…
– I beg your pardon for…
– Excuse me
Permintaan maaf secara formal dan sopan
– I apologize for my attitude = Saya meminta maaf atas sikap saya
– I apologize for my bad manners = Saya meminta maaf atas kelakuan buruk saya
– Please accept my apologies for everything = Mohon terima permintaan maaf saya atas segalanya
– Forgive me for… = Maafkan saya atas…
Menerima Permintaan maaf orang lain
– That's okay = Tak apa
– That's alright
– Forget it… = Lupakan saja
– It doesn't matter = Tidak apa-apa
– Don't worry about it = Jangan khawatir