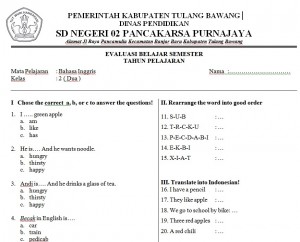 bagi adik-adik kelas 6 SD tentu sangat membutuhkan soal latihan bahasa inggris, kakak akan membagikan contoh soal yang didapat dari berbagai sumber di internet agar kalian semangat belajar.
bagi para guru, Anda tetap harus mengacu pada rpp bahasa inggris.
soal bahasa inggris kelas IV ini bermanfaat untuk mengasah pemahaman materi bahasa inggris yang telah selesai atau sedang dipelajari di kelas.
Contoh soal :
1. John : Excuse me, where is the post office?
Driver : Go ahead to …………………(timur)
a. West c. North
b. East d. South
2. I go to river for ……….. (memancing)
a. playing c. fishing
b. gardening d. cooking
3. Tono : Where is the supermarket?
Tini : It is in the ………. (selatan) of the hospital.
a. North c. East
b. South d. West
4. Rendi : How do you spend your holiday, Fita?
Fita : I usually stay at home learn ……… (memasak)
a. cooking c. fishing
b. gardening d. playing
5. The price of the ………. Is ten thousand rupiahs
a. book c. shoes
b. bag d. skirt
selengkapnya Download disini
bagi pengunjung yang memiliki soal bahasa inggris kelas 6 yang berbeda, Anda bisa berbagi disini. kirimkan melalui email admin belajaringgris.net. semoga bisa membantu & bermanfaat.