Contoh pidato in english – The Key of self-Esteem ini memaparkan tentang betapa penting dan mulianya seseorang yang mandiri tidak meminta-minta atau bergantung kepada orang lain padahal kita sudah mampu. Bahkan seorang remaja yang masih sekolahpun selayaknya belajar untuk mandiri sejak kecil sehingga di kemudian hari kehidupannya dimudahkan dan meraih banyak kesuksesan. Ayo Simak pidato in english ini agar memberikan semangat bagi kita untuk bangkit dan berprestasi.
Teks Contoh pidato in english
Independent Soul the Key of Self-Esteem
Assalamu'alaikum wr.wb
All praises only be to Allah, the God who rules over the universe. Shalawat and Salam may stay always be upon the prophet with no prophet after him, Prophet Muhammad Saw, and upon all of his families and companions.
Ladies and gentlemen that we proud of,
The true glory and honor is when our hearts are free from relying upon something but Allah Swt. Our struggle to keep our self-esteems from begging on those outside of Allah is a true proof of our glory. The independent soul is the key of self-esteem.
As soon as Rasulullah (Messenger of Allah Muhammad Saw) hijrah (took a journey) to Madinah, he made the people of Anshar and Muhajirin as his brothers. One more interesting story came when Rasulullah Saw made Abdurrahman bin Auf as brother with Sa'ad bin Rabi, the richest person from Anshar people. That time, Sa'ad said to Abdurrahman: "My brother, I am a rich resident of Madinah, you may choose half of my wealth and have it! And I have two wives, just look at them and pick one who attracts you the most, and then I will divorce with her so that you will be allowed to marry her."
Abdurrahman bin Auf said: "May Allah bless you, your wives as well as your wealth! Please, show me where I can find the market-place so that I can trade…!" Abdurrahman then went to the market-place and traded there.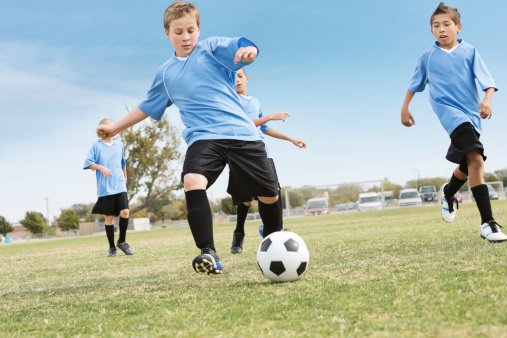 Until onetime Rasulullah came to greet, "How are you, O Abdurrahman?" he then replied, "Ya Rasulullah, I am married already and I used the gold for the dowry"
To all of my friends, we should make Abdurrahman's attitude and behaviors as our model to behave in life. That is the independence that comes from maintained self-esteem, a laudable behavior that starts to fade away in our society.
Ladies and gentlemen blessed always by Allah,
It has become a certainty that if we rely on anything outside of Allah, then we will be terrified and restless if that thing is taken by somebody else. But if we only rely on Allah Swt, then there will be no doubt and restlessness will befall us. Allah will never abandon people who truly count the wishes and hopes on Him. In a Hadits Qudsi described, "If My servant comes closer to Me by walking, then I will come closer to him or her at speed. If he comes closer to Me a hand span, then I will come closer to him and her a arms-length".
Independent soul is the key of self-esteem. Those with independent soul will be free in their lives, more confidence, do anything more, have more meaningful of words, use more effective of time. Thus, it is a true glory to Allah.
Ladies and gentlemen loved always by Allah,
There are few things we can follow up to become an independent person. Firstly, try to have a strong determination on yourselves in order to become independent person. Have a determination on your mind to always keep the self-esteem and prevent of becoming burdens of people. If we get to burden people, then we have to do as best as we could to make it up to their kindness.
Secondly, brave to start. Only with bravery people can rise up to be independent. We never reach the top if we don't start it out from the bottom. To reach the success you want, struggle along with pain is the risk you should face. This is the price we should pay. If we don't want to then we will be shoved aside.
Thirdly, enjoy the process. There's nothing instant, everything needs process. The worst time that happens to our land is one of proves that we always demand and press on the results while ignoring the processes. There will be no results without striving for the process. Allah doesn't see the results we achieve but our persistence in doing the process.
But do not get the persistence and independence make us become haughty people. The true independence is supposed to make us tawadhu, humble. Have your persistence and independence in tawadhu and tawakal to Allah Swt. Thus, the independence is not created to take pride in ourselves, but to make ourselves have more independence, more achievements, and avoided from haughtiness.
That's all I could say in this precious occasion and time. I wish everything I said can be all to the good for all of us. Please forgive me for my mistakes on words. Thank you for the attention.
Wassalamualaikum. Wr.wb
Terjemahan Pidato in English
Jiwa Mandiri Kunci Harga Diri
Assalamu'alaikum wr.wb.
Segala puji bagi Allah yang menguasai seluruh alam. Rahmat dan salam semoga tetap dilimpahkan kepada seorang Nabi yang tidak akan ada Nabi sesudahnya, Nabi Muhammad Saw. Dan kepada keluarga dan sahabatnya seluruhnya.
Hadirin yang kami banggakan.
Kehormatan dan kemuliaan yang sebenarnya adalah ketika hati kita bebas dari bergantung kepada pada selain Allah SWT. Perjuangan kita untuk menjaga harga diri dari meminta-minta kepada selain Allah adalah bukti kemuliaan kita. Jiwa mandiri adalah kunci harga diri.
Segera setelah berhijrah ke Madinah, Rasulullah SAW mempersaudarakan orang-orang Anshar dan Muhajirin. Ada satu kisah menarik yang terjadi ketika Rasulullah SAW mempersaudarakan Abdurrahman bin Auf dengan Sa'ad bin Rabi orang paling kaya dari golongan Anshar. Ketika itu Sa'ad berkata kepada Abdurrahman: "Saudaraku, aku adalah penduduk Madinah yang kaya raya, silakan pilih separuh hartaku dan ambillah! Dan aku mempunyai dua orang isteri, coba perhatikan mana yang lebih menarik perhatian anda, akan kuceraikan ia hingga anda dapat memperistrinya.
Jawab Abdurrahman bin 'Auf: "Semoga Allah memberkati anda, juga isteri dan harta anda! Tunjukkanlah letaknya pasar agar aku dapat berniaga….! Abdurrahman pergi ke pasar, dan berjual belilah di sana…….
Hingga suatu ketika Rasul menyapanya, "Bagaimana keadaanmu sekarang, wahai Abdurrahman?" Ia pun menjawab, "Ya Rasulullah, saya sudah menikah dan maharnya saya bayar dengan emas. SAHABAT, kita sangat layak untuk meneladani sikap yang ditunjukkan Abdurrahman bin Auf di atas. Itulah kemandirian yang berakar dari terjaganya harga diri. Sebuah sikap terpuji yang mulai hilang dalam kehidupan masyarakat kita.
Para hadirin, yang diberkahi Allah.
Sudah menjadi keniscayaan, jika kita bersandar kepada selain Allah, pasti kita akan takut kalau sandaran itu diambil orang. Tapi bila kita bergantung kepada Allah SWT, maka tak ada sedikitpun keraguan dan kecemasan yang akan menghampiri. Allah tidak akan mengabaikan orang yang bersungguh-sungguh berharap kepada-Nya. Dalam sebuah hadis qudsi disebutkan, "Apabila seorang hamba-Ku mendekati-Ku dengan berjalan, maka Aku akan mendekatinya dengan berlari. Apabila ia mendekati-Ku satu jengkal, maka Aku akan mendekatinya satu hasta".
Jiwa mandiri adalah kunci harga diri. Selain akan merdeka dalam hidupnya, orang yang mandiri akan lebih punya rasa percaya diri, sehingga bisa melakukan pekerjaan lebih banyak, ucapannya lebih bermakna, dan waktunya akan lebih efektif. Karena itu, perjuangan kita untuk menjaga harga diri dengan tidak meminta-minta kepada selain Allah adalah bukti kemuliaan sejati.
Para hadirin yang dicintai Allah.
Ada beberapa cara yang bisa kita lakukan untuk menjadi orang yang mandiri. Pertama, tekadkan dalam diri untuk menjadi orang yang mandiri. Tekadkan terus untuk selalu menjaga kehormatan diri dan pantang menjadi beban. Andai pun hidup kita membebani orang lain, kita harus berusaha membalas dengan apa-apa yang bisa kita lakukan. Ketika kita membebani orangtua, maka harga diri kita adalah membalas kebaikan mereka.
Kedua, berani memulai. Hanya dengan keberanian orang bisa bangkit untuk mandiri. Tidak pernah kita berada di atas tanpa terlebih dahulu memulai dari bawah. Adalah mimpi menginginkan hidup sukses tanpa mau bersusah payah terlebih dulu. Memang, segala sesuatu ada resikonya. Tapi inilah harga yang harus kita bayar dalam mengarungi hidup. Kalau kita tidak mau membayar harganya, kita pasti akan tersisih.
Ketiga, nikmatilah proses. Segalanya tidak ada yang instan, semua membutuhkan proses. Keterpurukan yang menimpa negeri kita, salah satu sebabnya karena kita ingin segera mendapatkan hasil. Padahal, tidak mungkin ada hasil tanpa memperjuangkannya terlebih dahulu. Tugas kita adalah melakukan yang terbaik. Allah tidak akan memandang hasil yang kita raih, tapi Ia akan memandang kegigihan kita dalam berproses. Namun, jangan sampai kegigihan dan kemandirian kita mendatangkan rasa ujub akan kemampuan diri. Kemandirian yang sejati seharusnya membuat kita
tawadhu, rendah hati. Sertailah kegigihan kita untuk mandiri dengan sikap tawadhu dan tawakal kepada Allah SWT. Jadi, kemandirian bukan untuk berbangga diri, tapi harus membuat kita lebih memiliki harga diri, bisa berprestasi, dan tidak membuat kita tinggi hati.
Demikian uraian ini, semoga bermanfaat. Mohon maaf jika ada kata-kata yang tidak berkenan.
Wassalamu'alaikum wr.wb .